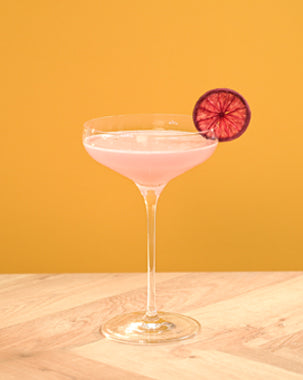 MARKET DAIQUIRI
WHAT YOU'LL NEED

Market Row Botanical Rum, limes, lime juice, hibiscus (dried), caster sugar.
RECIPE (HIBISCUS SYRUP)

Add 1.2 cups of sugar to 1 cup of boiling water and stirring for 30 seconds. Add hibiscus and continue to stir until all granules have dissolved and the syrup is a light red. Strain.
DRINK RECIPE

50ml Market Row Botanical Rum,
25ml lime Juice, 15-20ml hibiscus syrup
GLASS AND ICE

Coupette served straight up.
METHOD

Shake with ice. Garnish with dehydrated limes. Soak in hibiscus tea to make them pink.